Solar Grid Connect with Battery Storage
"If you're not considering battery energy storage now or in the near future you're not considering your best financial options"
"Solar with battery storage was the best decision I've made in years, my $6,000 (pa) electricity bill is down to less than $600 (pa)".  – One of our client's testimonials NSW (

approx 28% pa ROI and 4  years to go cost neutral to profit

) – "you can take that to the bank"!
As our communities, businesses, homes, and cars rely on more cost effective, clean electricity, the need to generate and store clean free energy becomes a financial and environmental imperative. Cost effective and reliable solar battery storage is available now! Contact us.
A solar hybrid battery storage system and how it works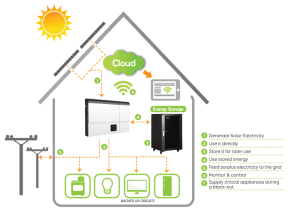 Solar Hybrid installation – A hybrid grid connected solar system with battery storage drastically reduces your electricity bills by up 90%, maximises your solar usage and supplies power when you need it 24/7.
Solar Hybrid ready – A grid connect solar system with an inverter that is ready for scalable battery storage in the near future.
Solar Hybrid retrofit – A battery storage upgrade to an existing grid connect system that will store energy for peak or nighttime use, significantly reducing electricity costs further.
We partner with global industry leaders in renewable energy and battery storage technology to achieve the best build and ROI results possible…it's a game changer!
Call us: 02 4284 2038